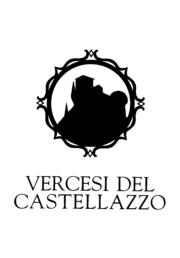 Region: Lombardia
Area: Oltrepò Pavese
---
Gugiarolo VB Oltrepo' Pavese DOC 2018 | 100% Pinot Noir in white
Pezzalunga Rosso IGT 2018 | Barbera Pinot Noir
Vespolino Rosso IGT 2017
Bonarda Fatila Oltrepo' Pavese DOP 2013 | 100% Croatina
Bonarda Fatila IGT 2011 | 100% Croatina
"Partly a castle, partly a convent, but first of all an excellent winery"
The Azienda Agricola Vercesi del Castellazzo is located on the slopes of the "Oltrepò Pavese" hills, in the municipality of Montù Beccaria. The winery occupies the manor house, a charming historic building erected on the very spot where, before the 12th century, there was a castle owned by the Beccaria family, a noble family from Pavia.
Despite its imposing appearance the castle, which dominates the small village of Montù, features no towers, battlements, arcade porches, corbels, or open galleries with gothic-style four-light windows. However, the ancient medieval building, which has undergone major transformations over the centuries and lies on a natural terraced property surrounded by gentle hillsides entirely covered with vineyards, bears testimony to a long-standing wine-growing tradition.
At the beginning of the 18th century, the Pezzalunga hill was already described, in an inventory drawn up by the Barnabites, as land planted to vine. The Azienda Agricola Vercesi del Castellazzo has its own vineyards precisely on these hill slopes.
The estate covers some 20 hectares of Miopliocenic soil composed of marly clays.
Since 1995, the winery has complied with EC legislation on the reduction of environmental impact. Their agricultural practices are designed to safeguard nature; our vineyards are completely grassed; no herbicides are used; vine cuttings are shred in order not to deprive the soil of nutrients; copper and sulphur are the only fungicides employed.
Their focus is on achieving the best quality by means of practices such as short pruning and cluster thinning, i.e. a low per-hectare production.
18 hectares out of a total of 20 are planted to specialized vineyards facing South. The grape varieties include: Croatina, Barbera, Pinot Noir, Ughetta and Cabernet Sauvignon, with a planting pattern of 7000 plants per ha; the Guyot and the spurred cordon training systems are both used.
Similarly, their wine production focuses on respect for grapes and the wine they yield: our wines are 100% natural.
They do not use sulphur dioxide in vinification, and only tiny amounts of it are employed in the bottling process. They rely only on wild yeasts – i.e. our own yeasts – instead of cultured ones and their cask-aged wines are not filtered.
All their actions are influenced by a strong respect for what we produce.